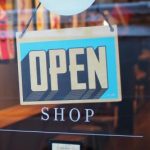 River Beats Media has recently launched a small business package that helps get businesses prepared for the new normal. Visit here to learn more or reach out for support.
---
Let's face it: the world has dramatically changed since COVID. Not often do we see such drastic ways everyday life is changed in the blink of an eye. I would say 9/11 is one prime example of this happening in the past, and for me personally, Hurricane Katrina is another great example. COVID has brought and continues to bring the same kind of bad forecasts as these past generationally-changing events.
From a small business perspective, COVID pushed technology changes faster than ever expected. Suddenly, businesses felt the stress of pivoting their models overnight. This change isn't categorized by one industry, but rather across dozens of industries. From live entertainment to hospitality including tourism, restaurants, and personal service, the world has drastically shifted even further towards the digital sphere.
With so much happening in such a short amount of time how do small businesses push forward?
I recently had the opportunity to be a guest panelist for a fantastic webinar series hosted by a young amazing start-up company based out of San Diego, GoSite. GoSite recognizes itself as a company that "creates simplified technology for small businesses that drive America's economy."
Our digital agency, River Beats Media, utilize GoSite's amazing CRM tools, and have been doing so for just over two months. I can honestly say that GoSite are at the forefront of helping to push small businesses into the "New Normal."
The webinar, titled Looking Forward: How To Plan For Digital Success In The Post COVID-World, focused on a 4-part roadmap that helped foster small business success in a post-COVID world.
It was a unique opportunity for River Beats Media and myself to be a part of. Especially since nine months ago, we were just growing our little agency legs; as of November 2020, we have doubled our client base and are geared towards continued growth in helping small businesses.
To share some of the main points we discussed in our webinar, I have shared some of our thoughts below, and how GoSite's tools have allowed us to continue to help grow small businesses all over the country. You can also watch the full webinar below.
Adjust Your Mindset
The new normal is here. Sometimes we have time to plan for advances in technology and culture, and sometimes they are rapid. We have called this time we are living in "the great reset." Your business and customers are both dealing with it. Customers are forming new habits based on availability, communication, safety, and ease of purchasing. Their "new" hot spots are being formed now, and you want to be in their ear as they make new decisions.
For owners, this reset is the perfect time to plan those new strategies you wanted to implement, but couldn't do due to every-day work. The days of weathering the storm and returning to old practices are over. Customers are more lenient to change than ever before. Here are some tips for adjusting your mindset:
Take advantage of new habits from customers
Launch new ideas, new strategies, new business models, or revenue streams
Know that customers are willing to see a new you
Be forward-looking, and change-oriented
Build Your Digital Foundation
During the COVID pandemic, digital usage spiked more than ever. With social media usage up more than 72%. With people stuck in their homes, businesses are pivoting to create an easy-to-use digital storefront. What does building this new foundation look like in 2020 and beyond?
A well-rounded approach to all things digital is where you should look. That list includes a mobile-friendly and fast website, one-touch easy invoicing and payment system, fast customer response times, constant content creation, social media management, review generations and response, and local listings optimization, including platforms such as Google My Business.
Think of it like a well-oiled machine. Without all of these marketing practices in place, the machine is ultimately missing something. So how do you get started?
Invest in a CRM tool(s) that can help you manage all aspects of your marketing. GoSite being one that we utilize with all our clients
Hire an agency, like our very own River Beats Media, to help consult and manage your plan moving forward
If you plan to go the old fashioned route, start researching the top tools in your industry. Don't be afraid to reach out to use either way. Email us at RbMedia@Riverbeats.life
Choose The Right Technology
As a small business, there are many tools and technology you can choose from, so how do you decide? Building on our point above, your digital foundation is actually created by using smart technology.
This means that realizing where your business needs help digitally, and then utilizing those tools to reinforce the weak points is key. Finding the right affordable tool is just as important as realizing what tools you need.
These two points are exactly why GoSite and River Beats Media mesh so well together. GoSite is an affordable tool that focuses on several key points: review management, easy booking, easy payments, website messaging, and improving local listings. All of these working together is a great start in helping to choose the right technology.
Even more-so now than pre-COVID, users have become a review economy. 91% of shoppers trust reviews as personal recommendations. That is a huge number. Managing and creating new reliable customers to advocate for your brand is as big as ever these days.
Use unique technology features hand-in-hand with tools like GoSite, smart-social tools like Sprout Social, Planoly, Canva, Linktree, Google Analytics, Review Trackers, Google Search Console, and dozens more!
Use The Data
Data is a key word you hear thrown around in various aspects of the business cycle including marketing and social media. But do we truly understand it? There are two levels to digital data for your small business:
Understanding all the data points available
Learning how to leverage it to grow or scale up your business
Data comes in many forms. From social media data that includes impressions, reach, and overall growth, to location demographics, age demographics, and more. If you, as a business owner, don't understand what you are looking at, or even where to find it, then it's nearly impossible to to use the data to your advantage.
There are free data tools to master, including the basics on Facebook, Instagram, Twitter, Pinterest, Amazon, TikTok. On the contrast of the spectrum are more advanced data points – like Google Analytics – that takes time to develop and understand.
In 2020, using and understanding data to generate new sales and new customers is at the forefront. The end-game over the past 10 months has shifted from getting new customers into your store, to reaching them digitally over the internet. With billions of users out there on the web, your ability to find the right customer based on your correct demographics is key.
In Conclusion
Plan for the future now by understanding the trends that are taking place in every industry across the board. From e-commerce to event planning, hospitality, restaurants, and more, the world is different, and now is the time to execute your new strategy.
River Beats Media has recently launched a small business package that helps get businesses prepared for the new normal. Visit here to learn more or reach out for support.